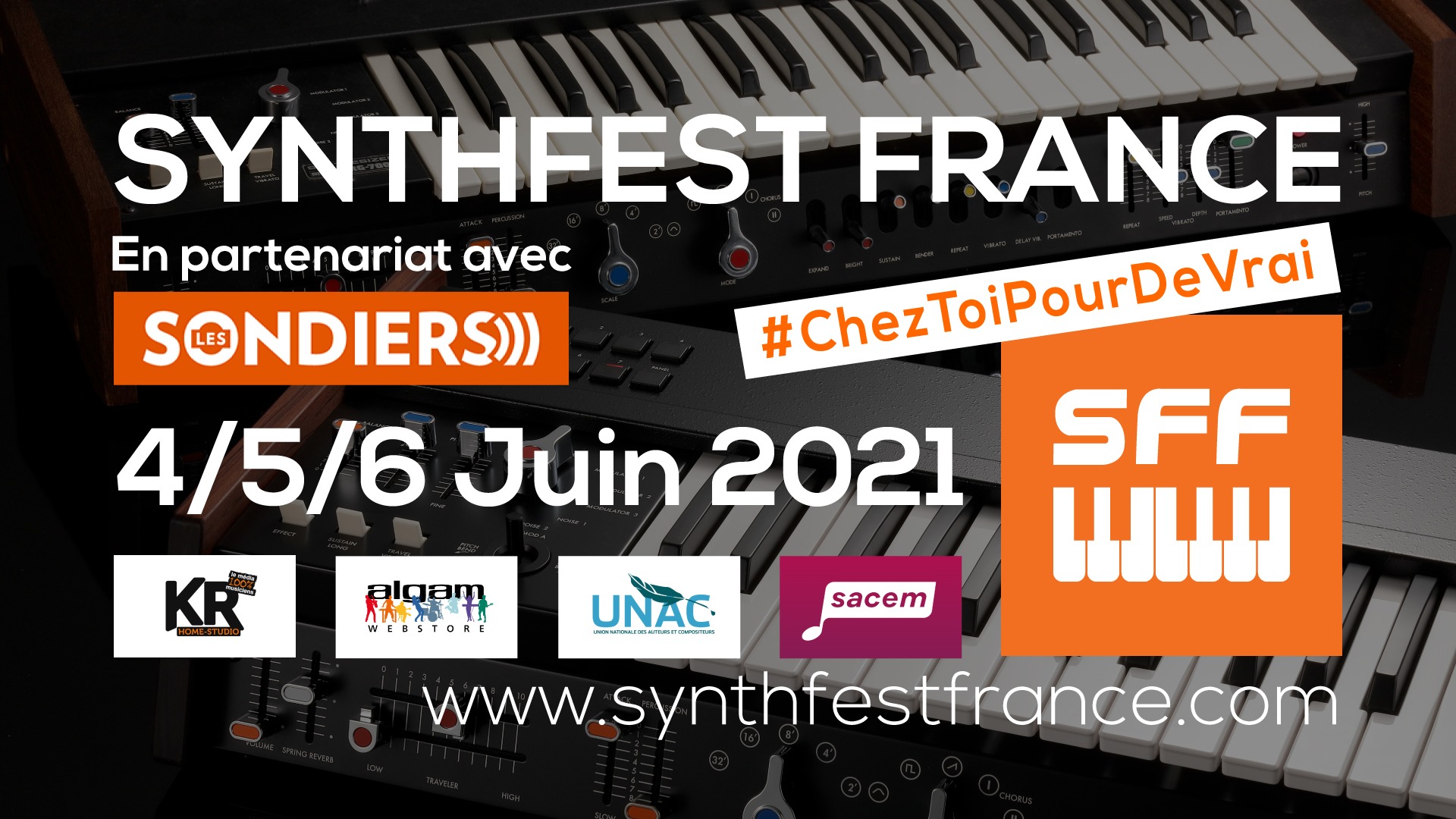 SYNTHFEST 2021 – NOUVELLES DATES
Compte tenu des conditions sanitaires actuelles, le SynthFest France initialement annoncé les 26/27/28 Mars se tiendra finalement les 4/5/6 Juin 2021. Une 8ième édition en ligne totalement gratuite avec encore plus de directs, de vrais exposants, de vraies machines, des nouveautés, des démonstrations, de la musique live, des invités prestigieux, des interviews, de l'interactivité, et tout cela en ligne de chez vous. En partenariat avec Les Sondiers, le SynthFest sera présent en multi-canal sur YouTube, Facebook, Twitch et sur le site officiel du SynthFest France.
Abonnez-vous dès maintenant à la chaîne YouTube: www.youtube.com/synthfestfrance 
Depuis toujours, le SynthFest France est entièrement géré par des bénévoles. Ce festival est un événement majeur pour tous les constructeurs, les magasins de musique et les artistes français. Si vous voulez aider à l'organisation de cet événement unique en France, une seule chose à faire: participer à la tombola servant intégralement à financer l'événement.
10 € = Une chance de gagner le fameux Korg 800DV: www.synthfestfrance.com/tombola-vintage-2021 
Une édition 2021 qui va tout déchirer. 
SYNTHFEST 2021 – NEW DATES
Given the current sanitary conditions, the SynthFest France initially announced on March 26/27/28 will finally be held on June 4/5/6, 2021. A totally free 8th online edition with even more live shows, real exhibitors, real machines, novelties, demonstrations, live music, prestigious guests, interviews, interactivity, and all this online from your home. In partnership with Les Sondiers, the SynthFest will be present in multi-channel on YouTube, Facebook, Twitch and on the official website of SynthFest France.
Subscribe now to the YouTube channel: www.youtube.com/synthfestfrance 
The SynthFest France has always been entirely managed by volunteers. This festival is a major event for all French builders, music stores and artists. If you want to help organize this unique event in France, there is only one thing to do: participate in the raffle which is entirely used to finance the event.
10 € = A chance to win the famous Korg 800DV: www.synthfestfrance.com/tombola-vintage-2021 
The SynthFest 2021 is going to be a huge.
Exposants – Réservez votre stand pour 2021
Exhibitors – Book your stand for 2021
Partenaires, exposants, une question ? Besoin de davantage d'informations ? Ecrivez-nous.
Partners, exhibitors, a question? Need more information ? Contact us.
E-mail: contact@synthfestfrance.com
@ Copyright Association SynthFest France
Politique de confidentialité