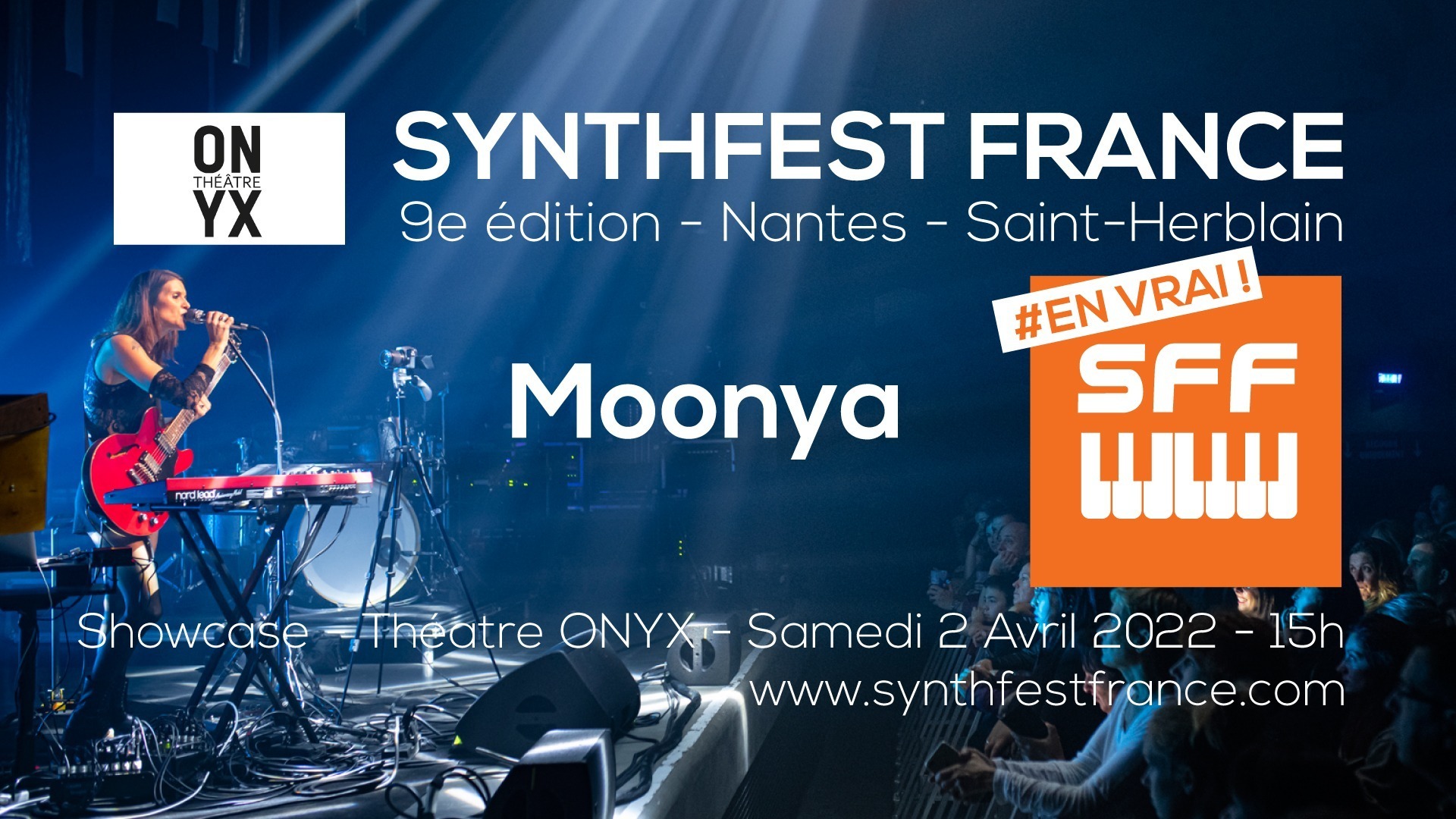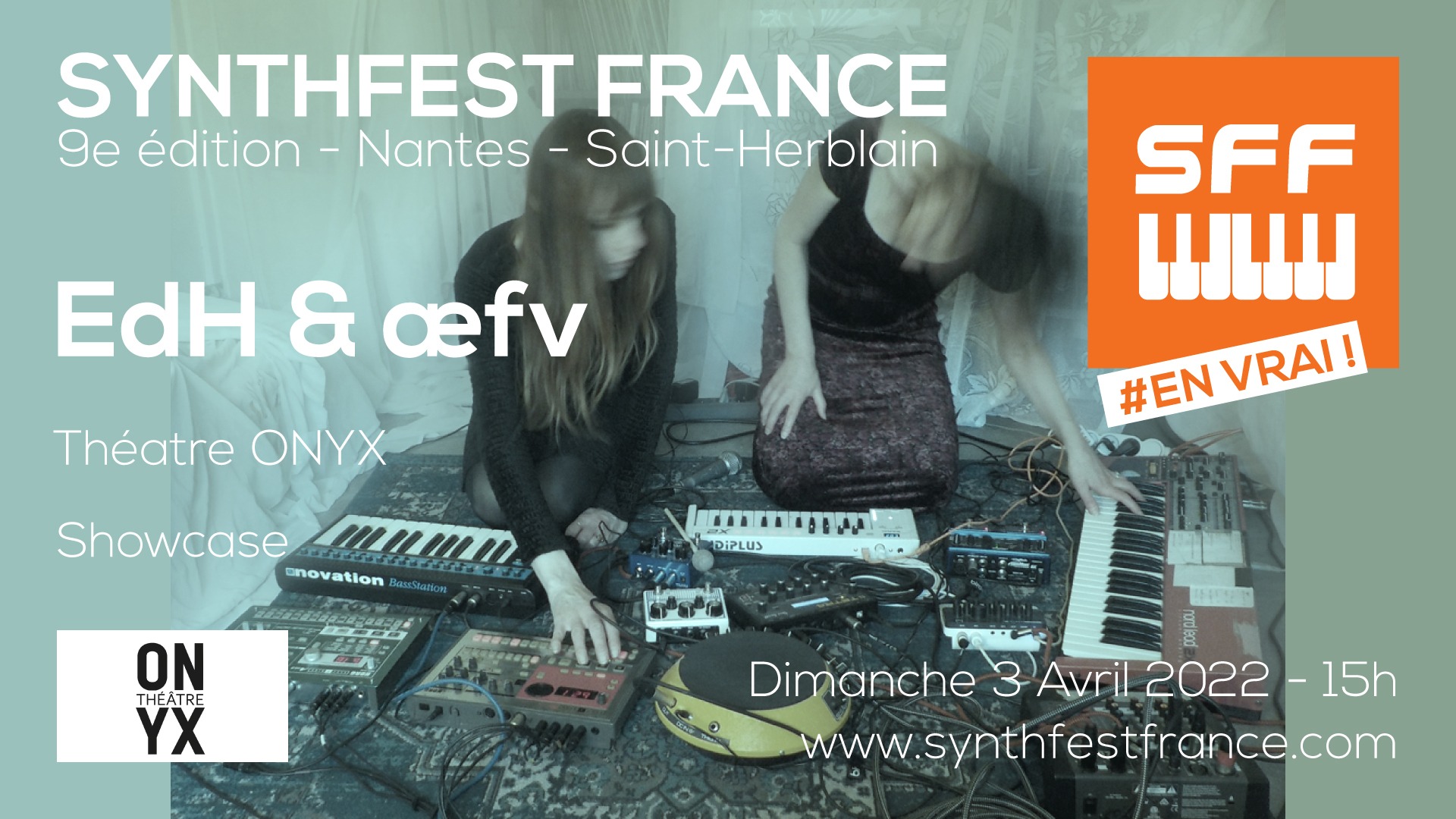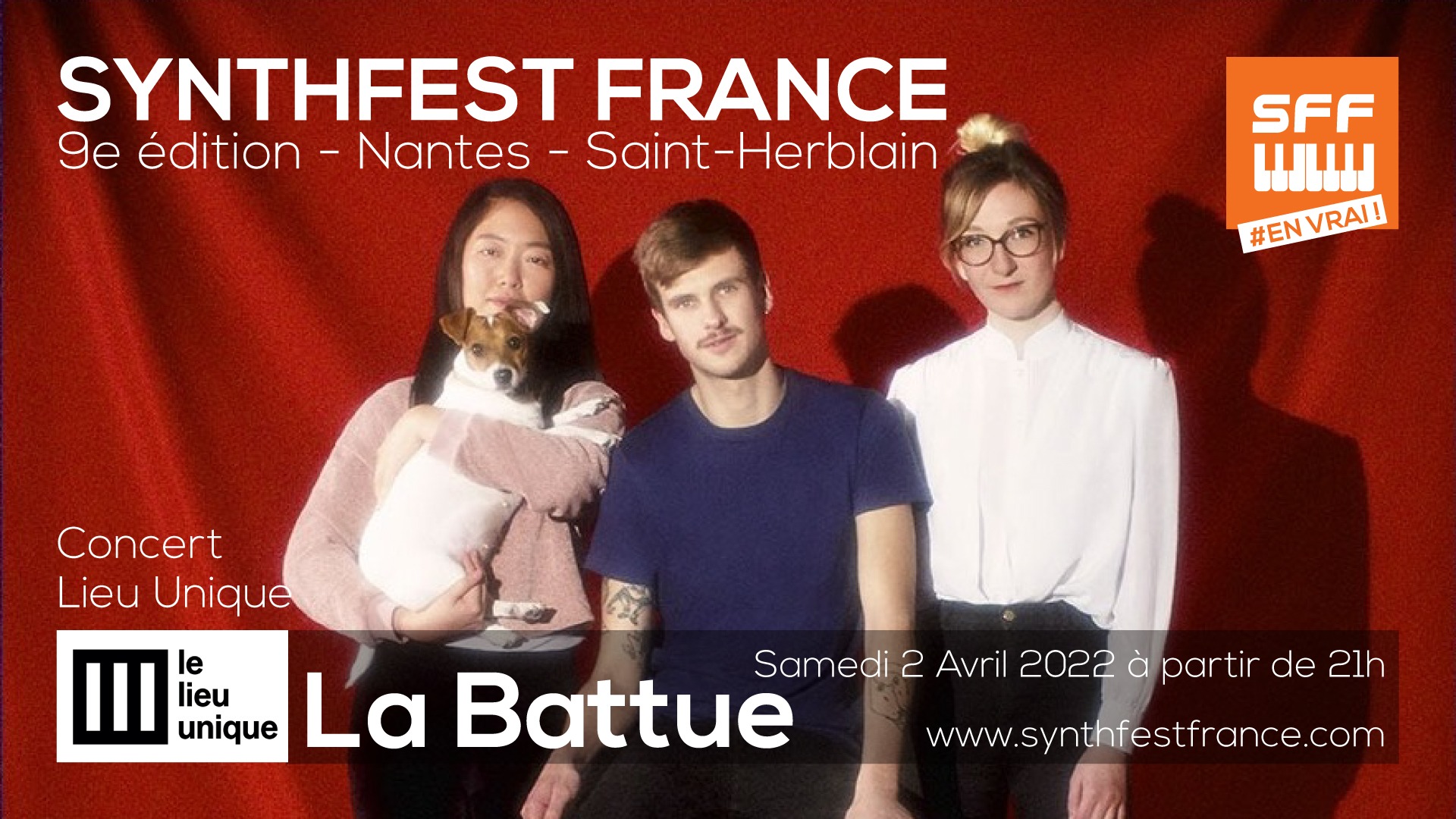 Festival / expositions / animations / showcases
Date: Vendredi 1 Avril / Samedi 2 Avril / Dimanche 3 Avril, de 10h à 19h (fermeture Dimanche à 17h).
Tarif: Billetterie à l'entrée du festival 5€ / jour.
Lieu: Théâtre ONYX – 1 place Océane 44800 Saint-Herblain – France
Concert Acte Bonté / Harald Grosskopf
Date: Vendredi 1 Avril, à partir de 21h
Tarif: Entrée gratuite.
Lieu: Le Lieu Unique – Quai Ferdinand Favre 44000 Nantes – France
Concert La Battue / Elek Ember
Date: Samedi 2 Avril, à partir de 21h
Tarif: Entrée gratuite.
Lieu: Le Lieu Unique – Quai Ferdinand Favre 44000 Nantes – France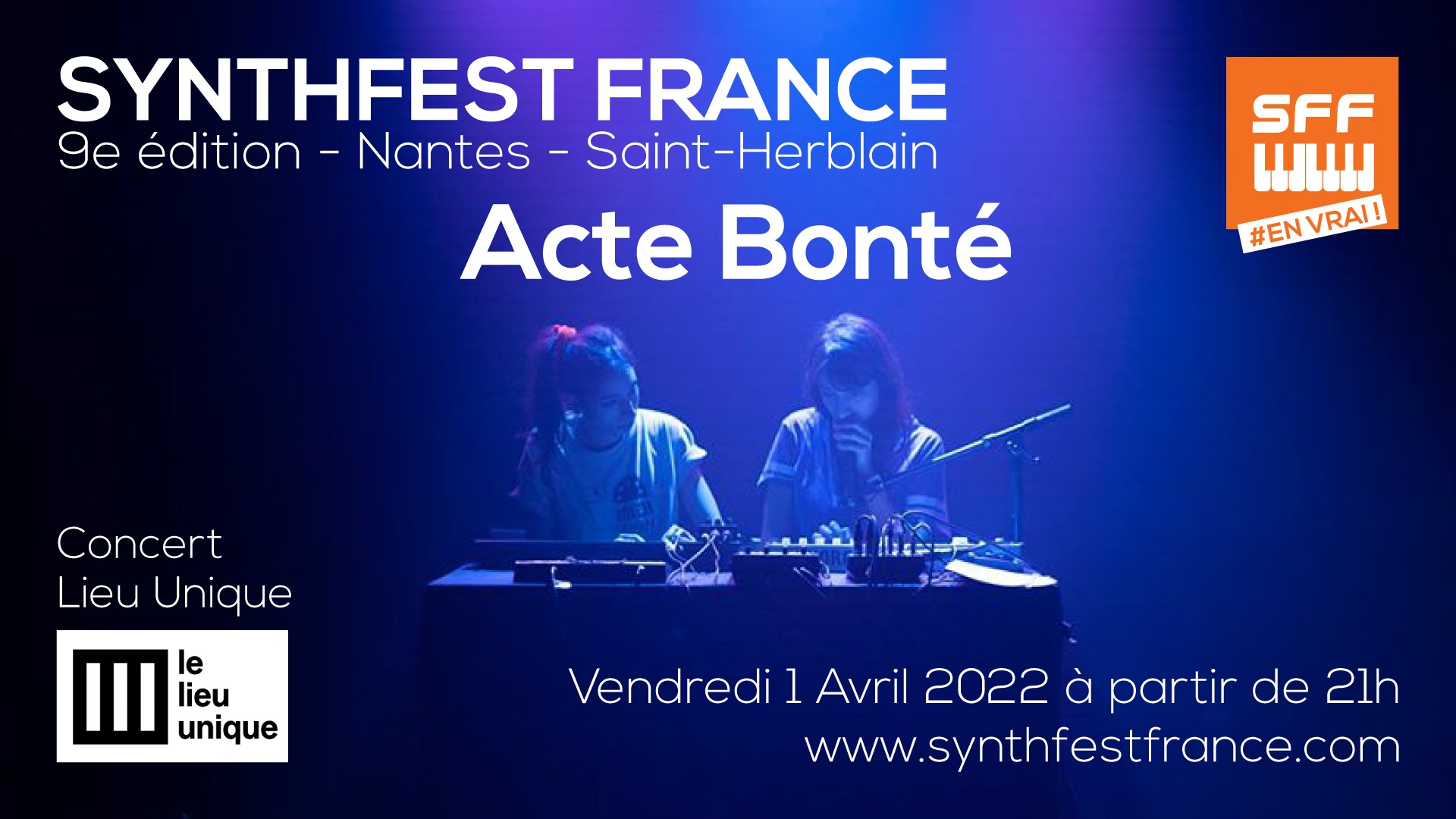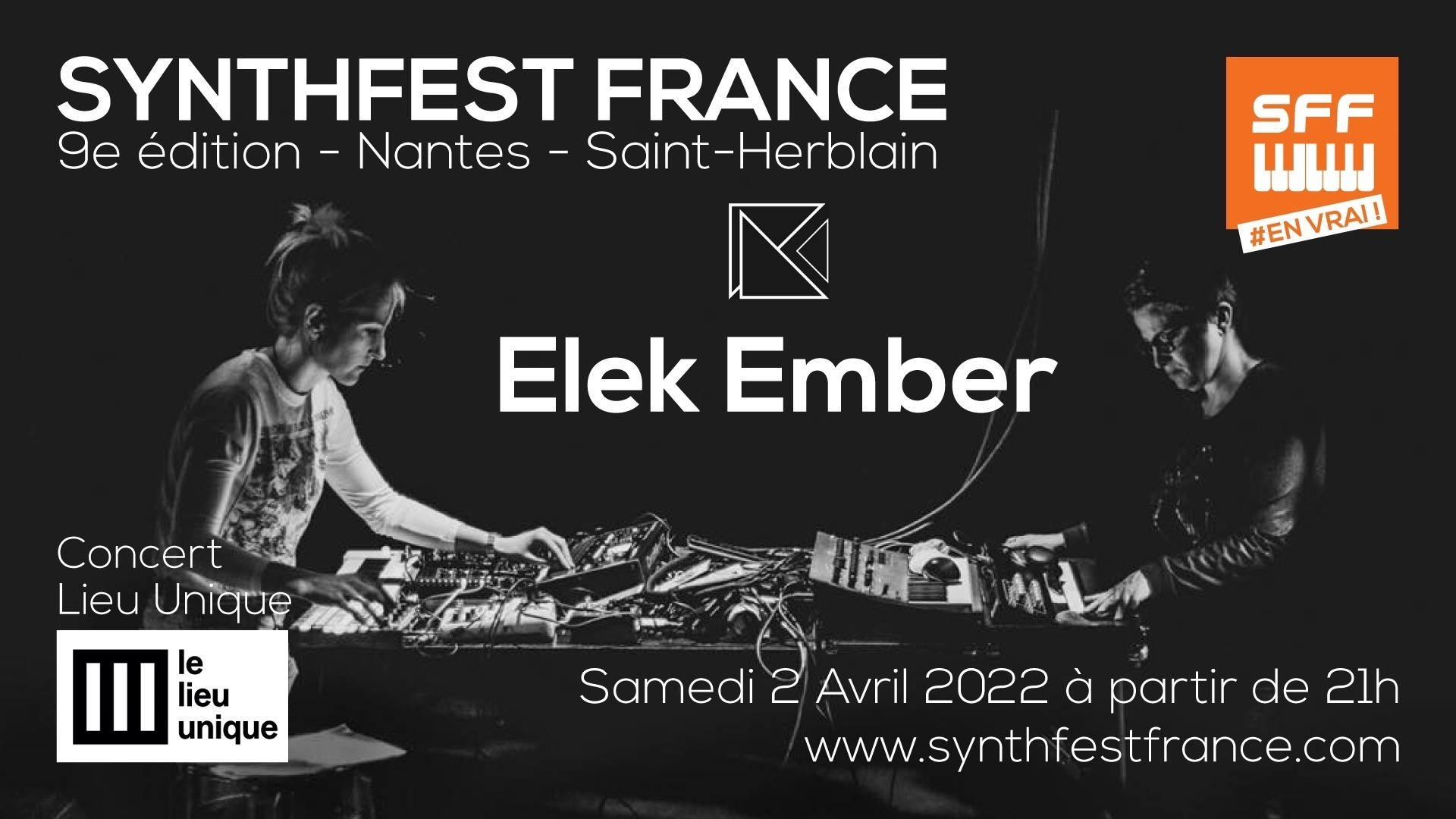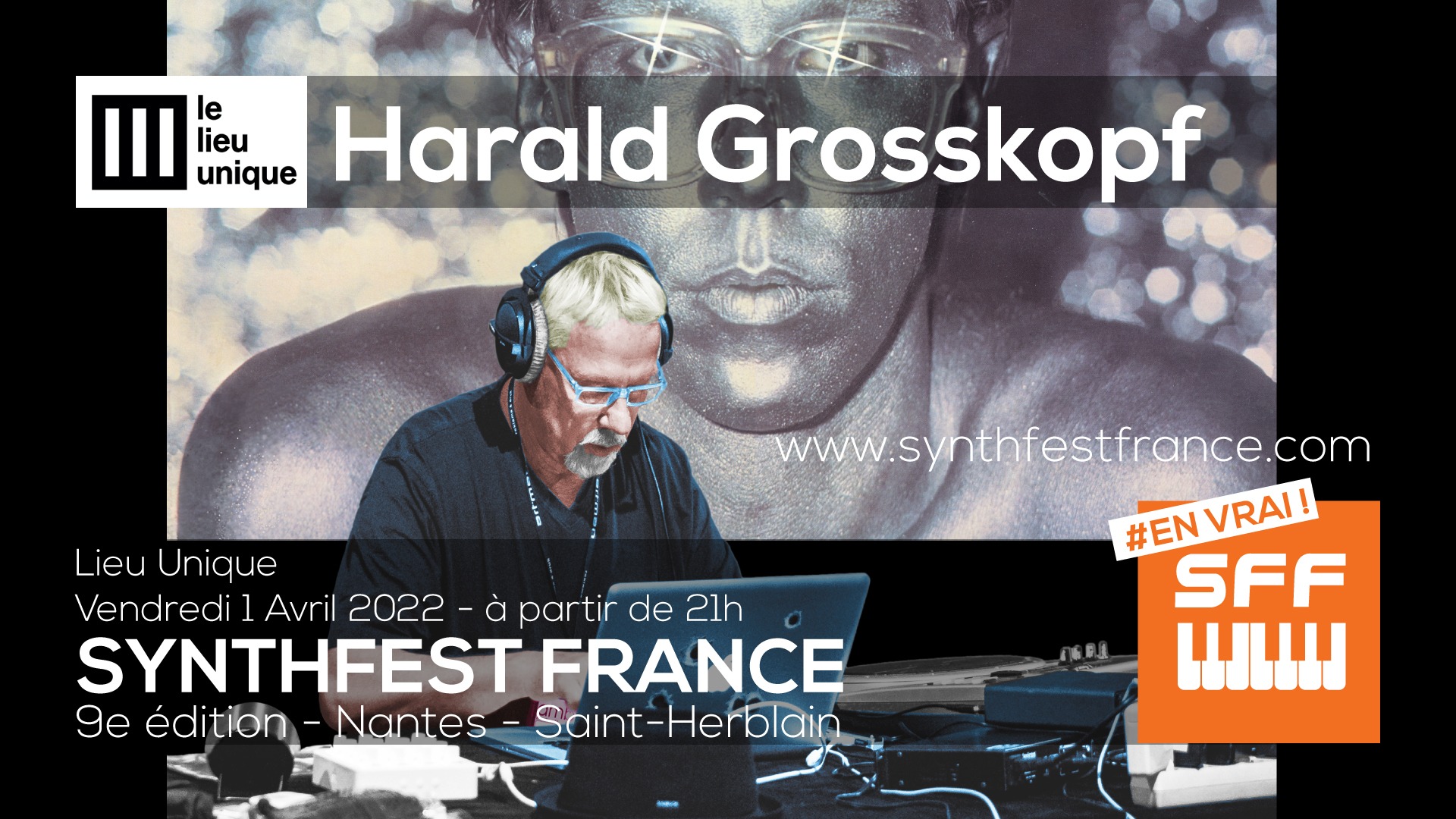 Exposants / Exhibitors 2022
Pour marquer le retour du SynthFest France #EnVrai, et pour cultiver cette différence qui fait du SynthFest un festival si particulier, beaucoup d'exposants cette année, avec des grandes marques, des constructeurs indépendants, et de nombreuses nouveautés qui vous surprendront.
Akai
Alex4
Alexis Faucomprez
Aliaszone
An.YBO.D.I.Y
Andrew Levin
Aodyo
Arturia
BR Laser
BVR Instruments
Baloran
Barbandco
ERR REC
Embodme
Expressive-E
FC Pro Audio
Faselunare
François Demarle
Haken Audio
Hansy Synth
INA – GRM
IRCAM
Joranalogue Audio Design
KR Home-Studio
Kodamo
Korg
La Voix Du Luthier
Laurent Cartaux
Les passionnés des claviers
Loumavox
MESI
Modor
Nicolas Fraudet
Novation
PH Modular
Patch Work Music
Paul Wiffen
Plural Modular Synthesizer
Pylobolus
RADIO EQUINOXE
RemySynthR
SACEM
Schlappi Engineering
Soundmit
Sylenth1 DIY
SynthFood
SynthéGrall
Tinhu
UNAC
Yusynth
Liste non exhaustive …
Venez avec votre casque et profitez des machines!
Alesis Andromeda
ARP 2600FS
ARP Omni
Aodyo Anyma Phi
Baloran The Pool
Baloran The River
Dominion 1
E-mu Emax
Ensoniq SD1
Erica Synths SYNTRX
Expressive-E Osmose
GRP A4
Haken Audio ContinuuMini
Haken Audio Continuum
Hansy Synth
Kodamo Essence FM
Korg 770
Korg Minipop7
Korg Polyphonic Ensemble
Kurzweil K2700
La Voix du Luthier Onde & Pyramide
Loumavox
Mellotron 4000D
Modor NF-1M
Modor DR2
Moog DFAM
Moog Grandmother
Moog Matriarch
Moog Mother32
Moog One
Moog Subhamonicon
Moog Subsequent 25
Moog Subsequent 37
Moog Minimoog
Moog One
Moog Theremin Claravox
Mos Lab ARP2500
Non Linear Lab CS15
Oberheim XPander
Oscar
Oxi Instruments OXI ONE
PPG 1020
PPG modulaire System 300
PPG Wave 2.2
PPG Wave 2.3
PPG Wavecomputeur 360
Raven Quasimidi
RemySynthR Synthr4
Roland Jupiter 8
Roland MKS80 + MPG80
Roland SH5
Roland SH7
Rythmicomputer
Sequential Circuit Pro One
Sequential Circuit Drumtraks
Sylenth1 DIY controller
Synthex
Vermona 14
Et pleins d'autres choses …
Les habitués du festival le savent déjà, venir au SynthFest c'est également l'occasion de rencontrer et d'échanger avec de nombreuses personnalités de la musique électronique. Venez au SynthFest et vous rencontrerez cette année Alexis Faucomprez, Bertrand Loreau, Benoît Widemann, Christophe Martin-de Montagu, Eliane Blaise, Emmanuelle De Héricourt, Eric Mouquet, Serge Perathoner, Dominique Perrier, Eric Synthwalker, Francis Rimbert, Knarf, Laurent Baloran, Lily Jordy, Moonya, Michel Geiss, Olivier Delevingne, Olivier Grall, Paul Wiffen, Remy Wasselin, SiFaSile, Yves Usson et bien d'autres.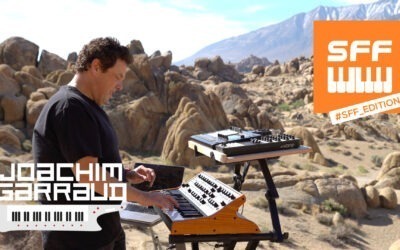 La 10ième édition du SynthFest France frappe fort, avec Joachim Garraud en concert, Samedi 22 Avril 2023 à partir de 21h. Le producteur et artiste français sera de retour à Nantes, sa ville natale, le temps de cette soirée exceptionnelle. Joachim Garraud présentera en...

Tombola 2022 – Liste des gagnants
1 – Korg ARP 2600-M – Ticket 619 – Kori G
2 – Novation Peak – Ticket 783 – Maël Birot
3 – Arturia MiniFuse2 + FX Collection 2 + V Collection 8 – Ticket 993 – Eloi Perregaux
4 – Haken Audio ContinuuMini – Ticket 836 – Jerome Nalet
5 – Moog Subsequent 25 – Ticket 953 – Jimmy Moscherosch
6 – Modor NF-1M – Ticket 420 – Eric Lievens
7 – Roland JD-Xi – Ticket 1293 – Patrick Delbouille
8 – Native Instruments Komplete 13 – Ticket 111 – Cédric Robiolle
9 – Aodyo Anyma Phi – Ticket 360 – Jean-Philippe François
10 – Eurorack modular bundle – Ticket 771 – Francis Loubry
11 – Fred's Lab ZeKit – Ticket 599 – Christophe Marandeau
12 – Akai Pro MPK Mini MK3 – Ticket 1057 – Frederic Pommat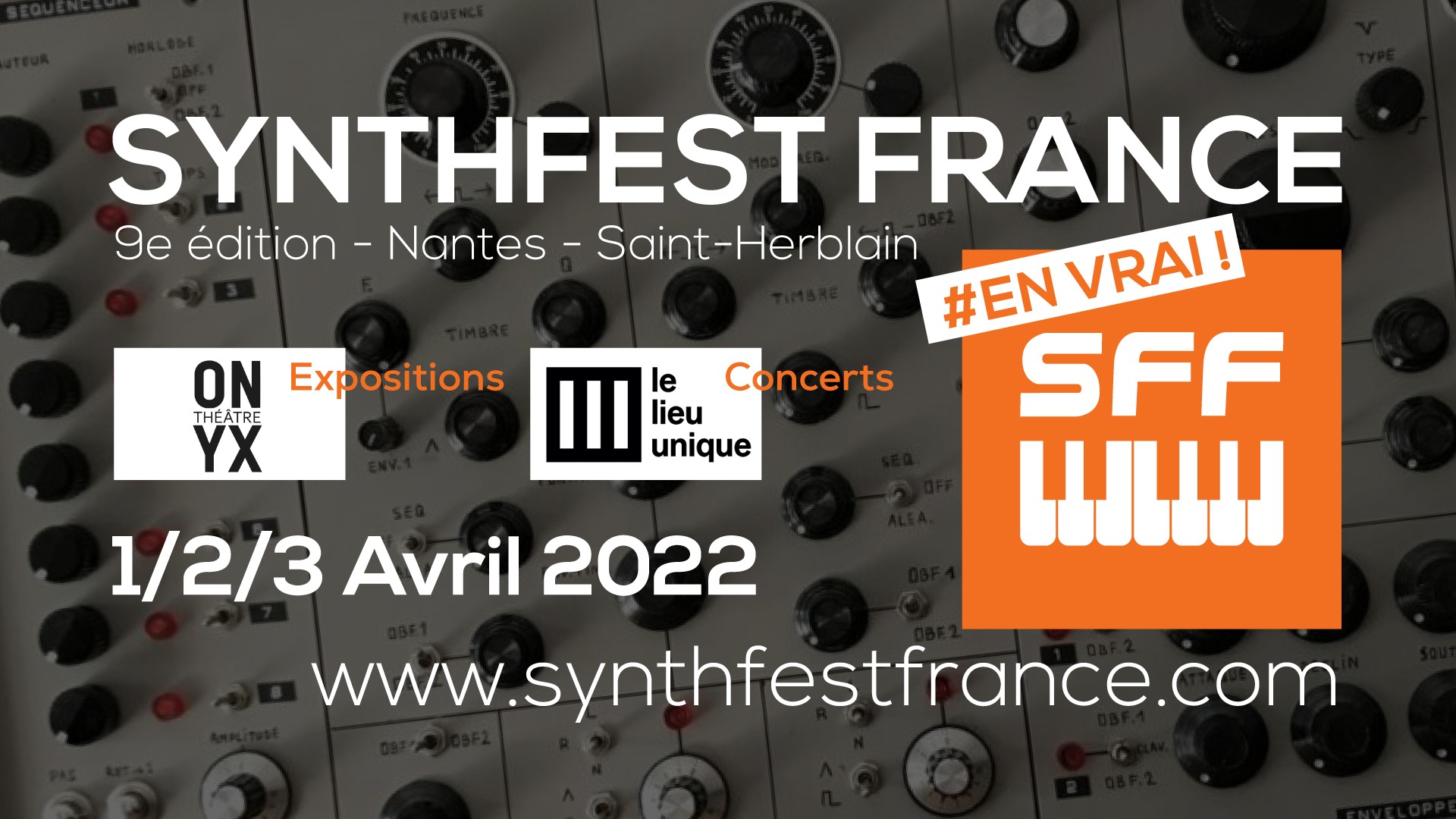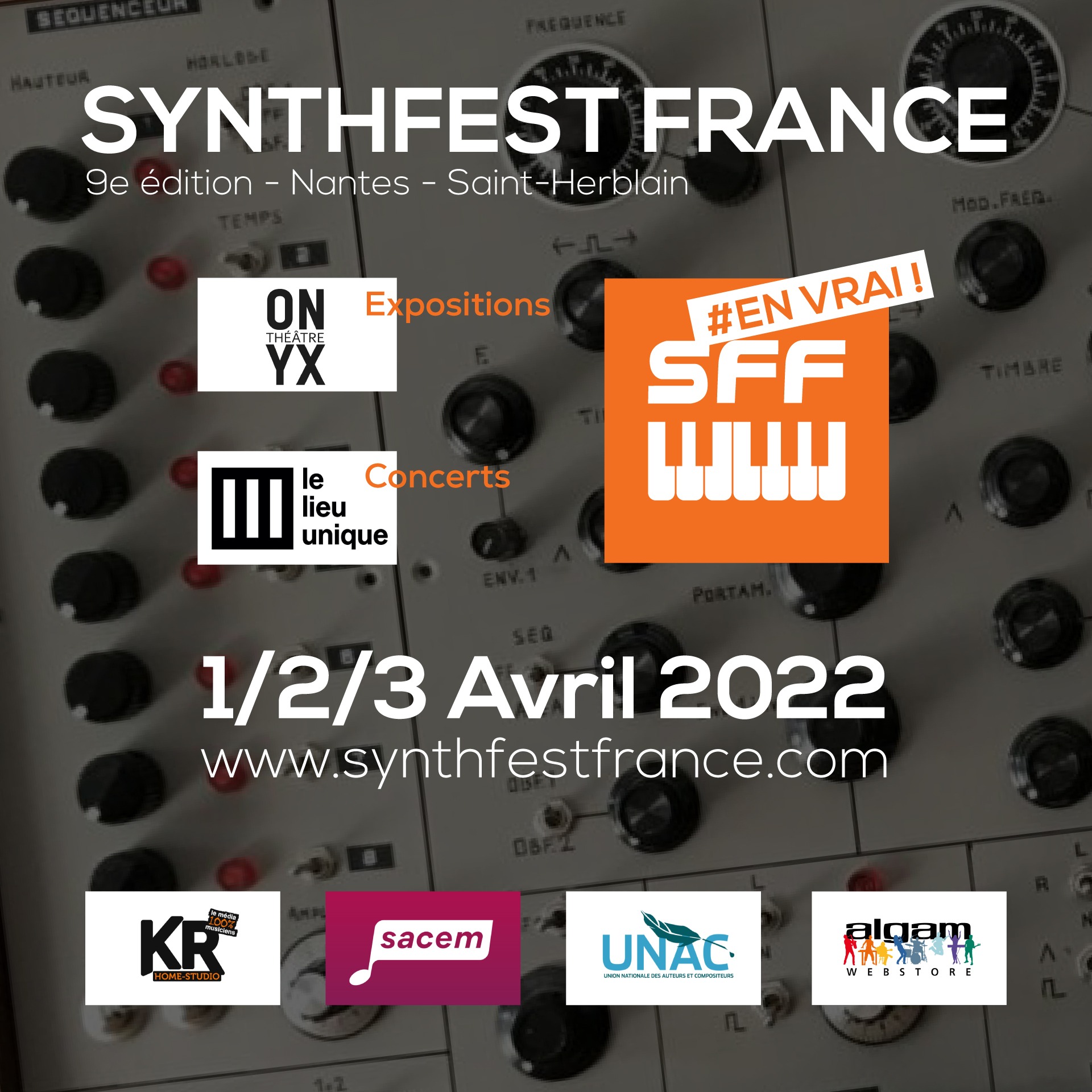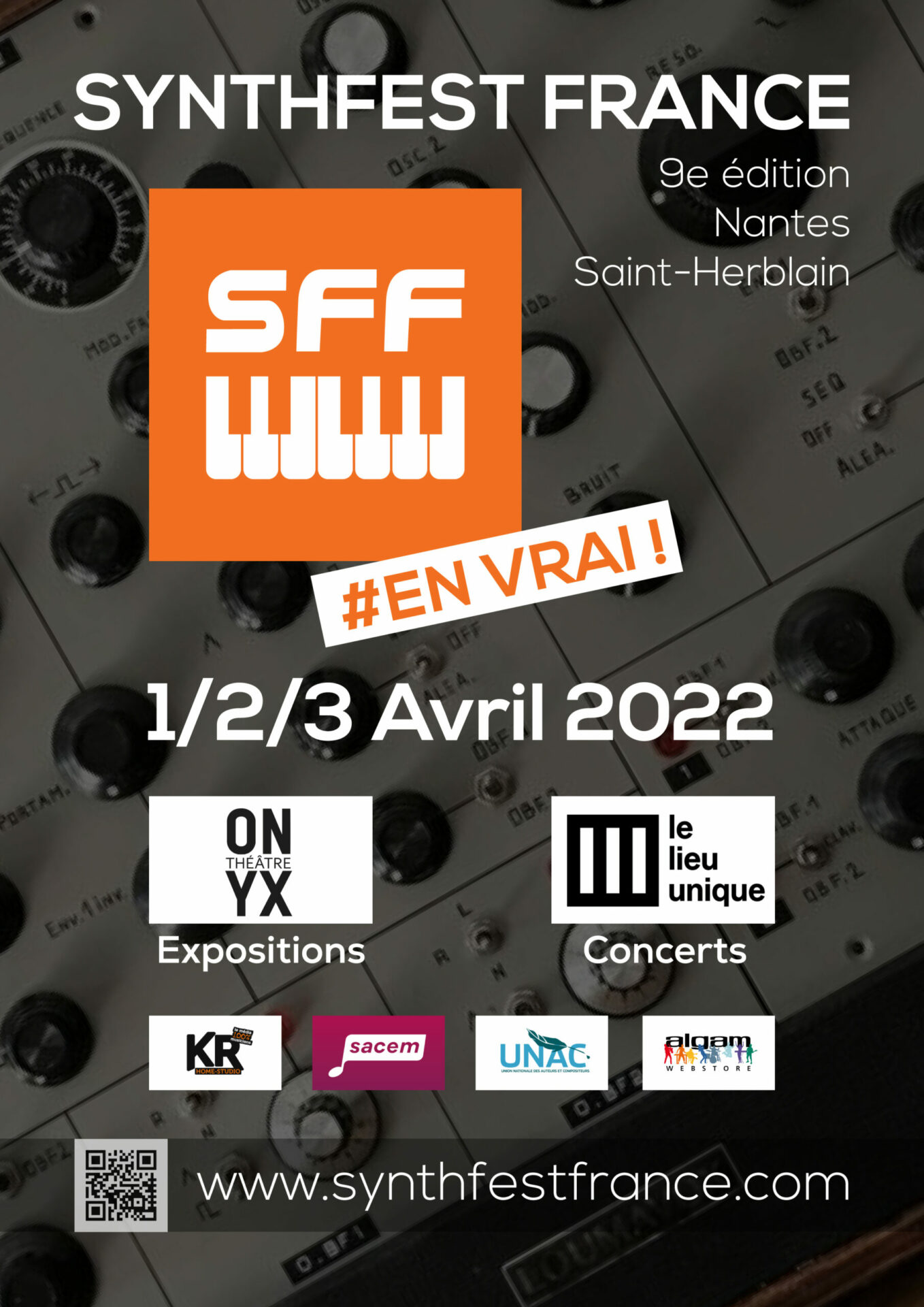 @ Copyright Association SynthFest France
Politique de confidentialité